Dhaka (1608-1757) / Urban fabric of Mughal Period
The modern urban fabric was influenced by the street network from Mughal Dhaka. The layout of the city was in clusters of areas and the street network was irregular and intricate. The unsystematic pattern of roads from Old Dhaka (within the Lalbagh and Kotwali areas) is visible in the modern maps with the webbed and winding roads that form organic spatial patterns around densely built buildings.
During the Mughal period, the basic urban pattern was divided into a number of mohallas (neighbourhoods).  The mohallas were interconnected with dirt roads, which were paved with bricks in 1677-791. The network was divided into the hierarchy of courtyards, narrow lanes, nodes and bazaars that manifested the socio-cultural activity. The administrative centre was located in the old fort area and served as the centre of the city, and the adjacent market places and the surrounding residential mahollas follow the well-established pattern with winding roads.
The formation of streets were related to the course of the river. There were two principal roads- one that ran parallel to the river from Victoria Park to the western fringe of the city, and another that extended from Victoria Park to Tejgaon2. Within the intricate street network of Mughal Dhaka, intersections were nodes that acted as civic space. These local nodes served as relief and activity spaces in the pedestrian scale.
Larger public areas were chowks that were the public squares and bazaars. The Chowk Bazar was served for trading for both the upper class and lower class, and the Bangla Bazar was the shopping centre before the Mughal period. The Chowk bazaar in particular was the main square that acted as a market place or emporium of the city during the Mughal period. It was located next to the Buriganga hence was a popular commercial space. It was the link to water transport and commercial merchandise, and brought in popular commodities like the famous 'muslin' cloth, pottery, arts and crafts products3.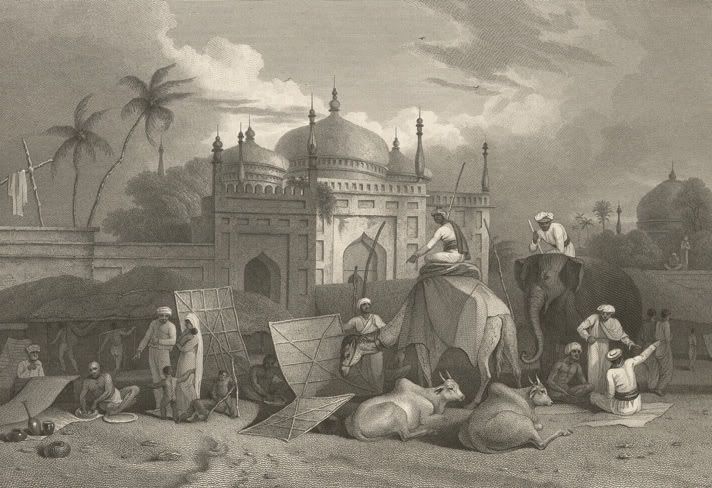 1 Dani, A. H. (1962) Dacca – A Record of its Changing Fortune. Asiatic Society, Dhaka.
2 Islam, N. Khan K. (1964) High class residential areas in Dacca city The Oriental Geographer, Vol. viii.
3 Hossain, N. (2001) The Socio-Spatial Structure of "Spontaneous" Retail Development in Dhaka City.